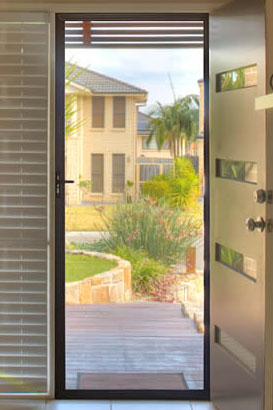 Privacy is a basic human right and is to be greatly valued. In the urban and ever increasingly populated environment within which many of us choose to live achieving privacy can be somewhat of a challenge; particularly when our homes are exposed to passing traffic both pedestrian and vehicle.
Pedestrian traffic is possibly the hardest however there are ways this can be achieved; one way vision can be a big advantage in many situations particularly in your residence, many homes have the front door situated within clear view of the street making it a difficult position to obscure.
Hedges can be an attractive part of the front of any building and do offer a great degree of screening; in most cases this is ideal to limit vision and if there is sufficient room is a very good alternative. There are also many different types of fencing and vision reducing screen options, assuming there is sufficient space, that can be used to limit vision and giving a greater degree of privacy.
Visibility through the front door is always difficult to conceal in high traffic areas to reduce the exposure to public view; one solution that has been available for some time is DVA mesh, sometimes referred to as one way vision mesh. Until recently this has been a very light weight product and certainly not considered a high security product and did not meet any Australian standards. Now at Seconline. customers can buy a one way vision mesh product that does meet the Australian standards AS5039-2008 which include dynamic impact, knife shear as well as lock and lever tests. This product is called Heavy Duty DVA and unlike DVA mesh which needed and additional grille to give it support, is able to be used independently and offers, in the right conditions, great vision outward whilst severely impairing the vision inward.
Heavy Duty DVA also offers a very high corrosion resistance and can be custom made in both the sliding or hinged security doors options to suit our customers individual requirements. If requested Seconline can also custom make Heavy Duty DVA  into window screens as privacy can also be needed in laneways, hallways etc.Vision guard screens and doors utilise a 1.6 mm thick aluminium sheet that has been perforated and powder coated black in colour in Australia to very exacting standards. Vision-Gard  works only if there is correct lighting which allows the person on the inside to be looking to a lighter point outside. This happens naturally in most cases during daylight hours, however if this is not the case, for example at night the these conditions must be induced by providing external lighting so as to make it lighter outside.
Heavy Duty DVA is available to be ordered direct on the Seconline website and shipped anywhere in Australia. As previously stated the mesh itself is black, however the frame is available in many different standard colours and if required a powder coating option is available.
Petway pet doors can also be installed into all Heavy Duty DVA  doors and Heavy Duty DVA screens.
Heavy Duty DVA  achieves a fire attenuation rating of up to 75% at 40kW/m2 incident energy.